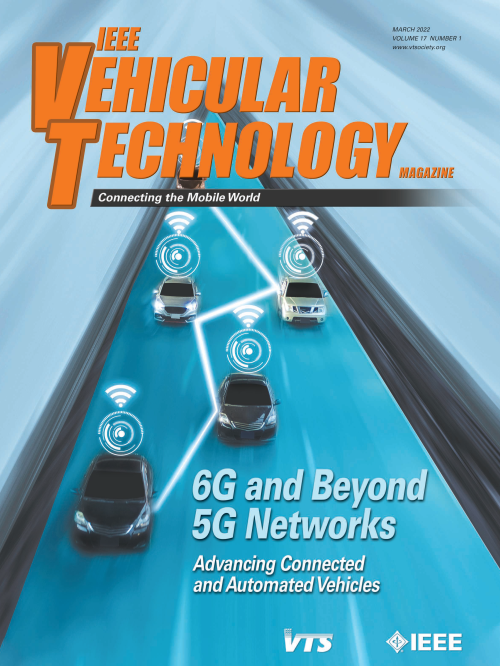 Publication
IEEE Vehicular Technology Magazine
Publication Menu
IEEE Xplore Journal Bibliometrics
Scope
IEEE Vehicular Technology Magazine publishes peer-reviewed articles covering advances in areas of interest to the IEEE Vehicular Technology Society: the theoretical, experimental, application and operational aspects of electrical and electronic engineering relevant to motor vehicles and associated land transportation infrastructure. (a) Mobile radio shall include technologies appropriate to terrestrial mobile vehicular services. (b) Motor vehicles shall include the components, systems and auxiliary functions. (c) Land transportation shall include the components and systems used in both automated and non-automated facets of ground transport technology, especially as they relate to vehicular systems.
The magazine focuses on intra-vehicular components, systems and applications. It includes tutorials, surveys, coverage of emerging technology in the aforementioned fields, and serves as a means for the IEEE VTS governing body to communicate with its membership.
Description
The IEEE Vehicular Technology Magazine is a premier quarterly magazine established as an international technical reference in its main areas of interest: mobile radio, connected and automated vehicles, automotive electronics, and transportation systems. 
Along with original technical papers, the magazine features editorial columns describing the latest news and developments in mobile radio, connected and automated vehicles, automotive electronics, transportation systems, standards, educational activities and Society news.
The magazine seeks original application, tutorial or survey-style papers describing new breakthrough ideas and technologies in mobile radio, connected and automated vehicles, automotive electronics and transportation systems.
Prospective authors are invited to submit to the main calls for papers and open special issue calls for papers as listed in the sidebar, following the submission instructions.
In 2021, the IEEE VT Magazine has an Impact Factor of 10.384, and is a Q1 Journal Citation Reports publication. The magazine is ranked:
2nd Journal (out of 36 in JCR) in Transportation Science and Technology.
7th Journal (out of 90 in JCR) in Telecommunications Engineering.
15th Journal (out of 266 in JCR) in Electrical and Electronic Engineering.
| Year | 2012 | 2013 | 2014 | 2015 | 2016 | 2017 | 2018 | 2019 | 2020 |
| --- | --- | --- | --- | --- | --- | --- | --- | --- | --- |
| Impact Factor | 1.105 | 1.567 | 1.75 | 2.783 | 4.429 | 6.038 | 6.145 | 7.921 | 10.384 |
Publishing Policies
This publication considers original works that enhance the existing body of knowledge. Original review articles and surveys are acceptable, even if new data/concepts are not presented. Results described in the article should not have been submitted or published elsewhere. Expanded versions of conference publications may be submitted. Articles must be intelligible and must be written in standard English.
Peer Review: Peer review is vital to the quality of published research. Each article submitted to IEEE is evaluated by at least two independent reviewers selected by a member of the publication's editorial board. Learn more about the IEEE peer review process.
Publication Fees: This publication is supported by subscriptions and applicable Article Processing Charges (APCs).
Errors in Published Articles: Authors who have detected an error in their published article should contact the Editor-in-Chief shown below to request the publication of a correction. Note that no change may be made to the original article after it is published in IEEE Xplore. Letter to the Editor articles which discuss an article in this publication will be considered. The authors of the original article will be given the opportunity to reply to the Letter to the Editor. Submit your Letter to the Editor article via Submit Manuscript at the top of the page.
Other Policies: